Life Style
Michael Jordan changed the world': the true story behind Nike movie Air
Ben Affleck's buzzy drama tells the story about how Nike transformed into a major force in the sneakers market thanks to a young basketball star
I didn't give a damn about Michael Jordan," recalls Sonny Vaccaro. "He did not play in my all-star game that I had for 20 years. I didn't pick him; I picked somebody else who was damn good too."
But lodged somewhere in the brain of Vaccaro, an executive at Nike hunting basketball's next big thing, was the memory of 1982 and a moment for the sporting gods. Jordan, a 19-year-old freshman displaying preternatural calm, had made a 16ft jump shot with 15 seconds left to win the national college championship for North Carolina.
The importance of this moment is vivid in Air, a new movie in which Matt Damon plays Vaccaro as middle-aged, out of shape and short of breath – literally gasping for air – as he tries to save what in 1984 was Nike's fledgling and flailing basketball division. Director Ben Affleck plays the Nike co-founder Phil Knight while Viola Davis brings steely dignity to Jordan's mother, Deloris.
Jordan himself is not shown in the film apart from some archive clips including that life-changing shot in 1982, which Damon's Vaccaro is seen studying on VHS video tape again and again. "That is such a great scene because you can watch it happen now," Vaccaro, now 83, says by phone from Palm Springs, California. "It was 40 years ago and there are kids who weren't born yet."
In the movie version, Vaccaro becomes convinced that Jordan is special and that Nike should bet everything on him to achieve success in the NBA. But he faces scepticism from Knight and fierce competition from more established shoe rivals Adidas and Converse.
The real Vaccaro, who was an adviser on the film, recalls that he had only met Jordan once. "He basically said he loved Adidas right up front. He was probably going to Adidas if they gave as much money as other people. I said, 'Michael, who are you the closest to?' I thought he'd say [North Carolina coach] Dean Smith or one of his fellow team-mates. He said, 'My family'. It just stuck in my mind."
The dogged Vaccaro found out the Jordan's family home phone number and began calling the player's mother Deloris. "We made a relationship over the phone right there," he says. "She was an alpha human being."
Vaccaro says Nike colleagues came up with the novel idea of building an "Air Jordan" shoe around the young star and ended up signing him in a $2.5m five-year deal. But Jordan's mother added a crucial clause, insisting that the player get a share of the profit from every pair sold – perhaps the shrewdest bit of business since Alec Guinness secured a percentage of Star Wars' earnings.
It also heralded a global revolution in the way sport was marketed and players were rewarded. Vaccaro comments: "Michael changed the world. People think he's the greatest basketball player that ever lived and he may well be. I don't go in for icons or Goats and all that on team sports but what I can say – and I never thought of it till I saw the movie – is Michael opened up the door for Black athletes in earning a lot of money off their endorsements.
"It was like a set fee in the 80s; the most that anybody got was maybe $100,000. But now you were free to make deals. He opened up a business world that was not available to anybody else and he created an item that will live on. Where else in the world can you see somebody's old shoe now worth $1m at auction?"
The gamble paid off in spectacular fashion. Jordan won six NBA championships with the Chicago Bulls, became a billionaire and now owns the Charlotte Hornets. Last year the Jordan brand made Nike $5.1bn. The "Jumpman" logo – a silhouette of Jordan jumping with a ball in his hand – is a staple in the fashion and sports industries. Nike, whose revenue topped £37bn in 2022, is the world's number one shoe and sports brand.
But Air does not tell the whole story. Vaccaro was fired by Nike in 1991. He recalls: "One day I just walked in and Phil made an agreement that I would no longer be there. That was the business and I always understood that. Things carry on and I've gone forward in my life and he certainly has. There was nothing like competing against them too."
Vaccaro went to work for the old foe, Adidas, and signed Kobe Bryant to a major shoe contract straight out of high school. Bryant went on to a stellar 20-year career at the Los Angeles Lakers. It was poetic justice for Vaccaro but he denies feeling any lingering bitterness towards Nike.
"Differences in stories take place. A lot of people do a lot of things but I have no animus towards anybody. Phil is the last person I would even remember from the old days. He opened the door for me. He believed in Michael so I can't ever be mad at them. I just go on with my life."
There was obvious acrimony, however, in a 2015 article in the USA Today newspaper about who was responsible for the Nike deal. Knight was quoted as saying: "Sonny helped, but he wasn't the MVP in that process." Jordan told the paper: "Sonny likes to take the credit. But it really wasn't Sonny." And Vaccaro himself said: "Phil Knight's lying, Michael's lying more than Phil."
Roland Lazenby, a sportswriter and biographer of Jordan, Bryant and Earvin "Magic" Johnson, has interviewed Vaccaro at length. He says: "Sonny was the mind and, by his own admission, the somewhat devious mind of Nike basketball in a lot of ways. The thing that's so painful for him is that Nike has gone to great lengths to create this revisionist history that writes Sonny's role out of everything. The bad blood between Sonny and Nike has just gotten worse."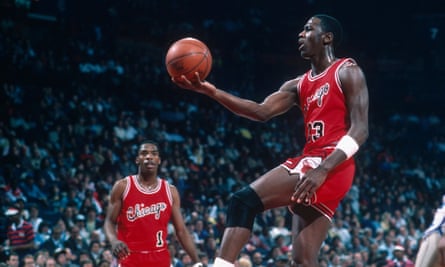 Affleck's film offers a corrective, however (Nike did not respond to a request for comment). Speaking from Salem, Virginia, Lazenby, 70, adds: "I've been told Sonny is not getting a dime for this movie but he is very appreciative of it. It's very important to him because Sonny is an old gentleman now and Nike is still big and strong and powerful. It controls the messaging, sets the agenda itself pretty well, and so this is the chance for Sonny's side of the story to be told."
Critics have blamed Vaccaro for the commercialisation of college basketball. But in recent years he became an advocate for players included in a class-action antitrust lawsuit against the NCAA (National Collegiate Athletic Association) over athletes' rights to profit from their name, image and likeness. A supreme court ruling went against the NCAA in 2021.
Lazenby comments: "Sonny's not quite a hidden figure. I first did a story on him in 1984 for the Sporting News and he was a notorious figure in some regards. In many ways Sonny is a sweetheart and a champion of players and coaches; he's also a very tough guy and has a fierceness. He is one the great mysterious figures of American sport and he has been right in very big ways."
Jordan, now 60, was introduced to a new generation in 2020 in The Last Dance, a documentary looking at his last championship season with the Chicago Bulls. The 10-part series, which included never-before-seen footage, was released sooner than expected to fill the sporting vacuum caused by the coronavirus pandemic.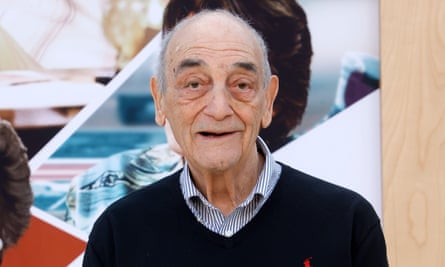 Lazenby reflects: "One of the themes of Michael Jordan's life is this unbelievably perfect timing. I was sitting up top alone with Michael Jordan at the pre-draft camp in Orlando in 2008. Kobe was on his way to winning the league MVP and the league had set Jordan up to be owner in Charlotte. He looked at me when I asked him to look back on his life and he said, 'Timing is everything'.
"The real relevant point here about Sonny Vaccaro is that he played a key role in that timing. He was part of the great ignition that set everything in motion. When I look back on it, Sonny Vaccaro was the accelerant for the business of basketball and shoe marketing."
He adds: "All over the world very quickly Jordan became the primary figure of global sports merchandising. I wouldn't say it's the last great American phenomenon globally but at a time where American influence is being challenged – some would say it is waning – Jordan is a figure that is immune to the future."
Air is now out in US cinemas and will be in UK cinemas on 7 April with an Amazon Prime release later this year