Life Style
You Are the Biggest Blessing": As Baby Biles Turns Four Months, Simone Biles's Brother Pens Down a Heartwarming Message
Ever since her birth in November 2022, Baby Biles has been the apple of everyone's eye. Born to the Gymnastics Queen Simone Biles' brother Ron Biles Jr. & his wife Sammi, the baby has been named Ronni. Conceived through the IVF procedure, the baby was the most awaited member of the family. Born a month prematurely, the baby's life was off to a tough start. But everything turned out for the best as little Ronni made it home within a month.
Now, as the little one completes four months, Papa Ron Biles Jr. has an endearing message for her to read in the future.
Ron Biles Jr. shares unseen photos of Baby Biles
On 26 March 2023, Olympics gymnast Simone Biles' brother, Ron Biles Jr, shared a heartwarming post on his Instagram. In the first half of the caption, Ron Jr. addressed his little baby. He wrote, "Happy 4 months to my baby girl…Ronni Louise. Daddy loves you so much and I'm so proud of the progress you're making my lil champ. Thank you for making our world a better place and all the smiles you continue to give us on a daily basis.
He continued, "You are the biggest blessing we could have ever asked for and the cutest little girl in the whole world!! I love you Ronni and keep on trucking my little chicken nugget!" Along with a message, Ron Jr. shared a set of unseen photos with his little family. The first photo was of him holding the baby in front of him while the two faced the camera. In the second one, he was seen kissing the little one on her forehead.
The third photo was a closeup shot of the father-daughter duo who was all smiles in the picture. Sammi Biles joined the duo for the last shot. The baby through her smiles has been brightening the days, not just of her father but that of her aunts and uncles too. The millionaire aunt Simone Biles is just keeping an eye out for an opportunity to spoil her niece.
Simone Biles is ready to be the cool aunt
Simone Biles fell in love with little Ronni even before the baby was born. While sharing a picture from her brother and sister-in-law's baby shower, the gymnast revealed the baby was "already so loved." Ever since her birth, the baby has made several special appearances on her famous aunt's Instagram feed.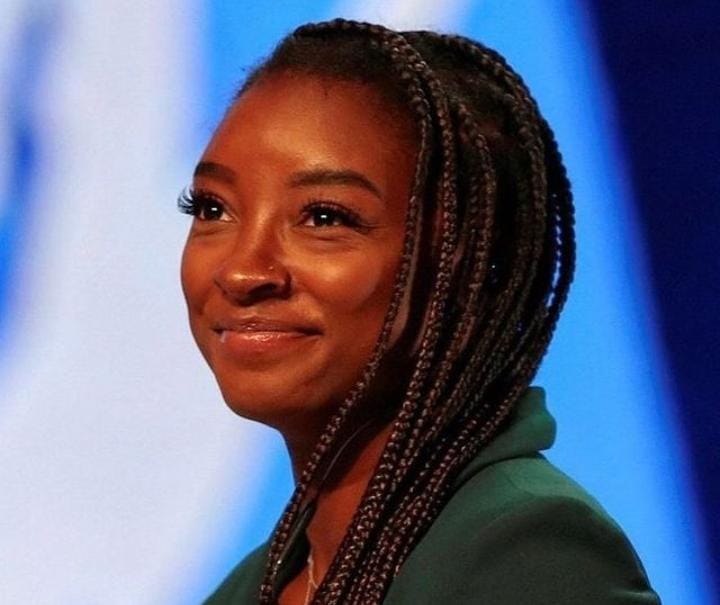 In one of the stories posted by Simone Biles, the little one was taking a peaceful nap unaware of how her aunt was gushing over her. Revealing her excitement through the caption, Simone had written, "So excited to spoil & love you."