Sports
AUSTRALIAN OPEN'S BIGGEST SURPRISES, INCLUDING IGA SWIATEK, ANDY MURRAY, DANIIL MEDVEDEV, AND WHAT THEY MEAN FOR 2023
The 2023 Australian Open was full of surprises, but what were the biggest shocks and what do they mean for the rest of the tennis season? Iga Swiatek and Jessica Pegula both lost earlier than expected in Melbourne while former world No. 1 Andy Murray impressed in two long matches. Daniil Medvedev, Taylor Fritz, Ons Jabeur and Casper Ruud suffered early exits.
There were top seeds falling early – the first time in the Open era that the top two men's and women's seeds both lost before the quarter-finals – along with some surprise breakthroughs and late bloomers making their mark
What were the biggest "whaaaat?" moments from the first Grand Slam of the year?
PREDICTIONS? PAH!
Iga Swiatek to start off another year of dominance by winning her fourth Grand Slam? Taylor Fritz, Felix Auger-Aliassime or Holger Rune to make a deep run? Jessica Pegula or Coco Gauff to make their major breakthrough?
The 2023 Australian Open doth not care for predictions of those sorts.
By the time the quarter-finals rolled round just four of the 16 players left across the men's and women's draws were ranked in the top 10. The men's defending champion Rafael Nadal was gone, women's world No. 1 Swiatek was gone, Gauff was gone, Pegula would soon be gone, and all the stars from Netflix's Break Point documentary were cleared out.
For a tournament already without Nick Kyrgios, Carlos Alcaraz, Ajla Tomljanovic, and Paula Badosa, it was not an insignificant shake-up to the singles draws. And considering the Australian Open is often seen as the Grand Slam where players should be at their peak after an off-season break, the amount of upsets was surprising.
What it means for 2023: That there's still a loooong way to go this season and a lot to learn.
SWIATEK AND PEGULA COME UP SHORT
The unpredictability of women's tennis means top seeds falling early doesn't have as much of a shock factor as it does in men's tennis, but Swiatek and Pegula not challenging for the title was a surprise.
World No. 1 Swiatek was a big favourite before the tournament, but admitted she felt the pressure as she went out in the fourth round to eventual runner-up Elena Rybakina. In hindsight it wasn't as much of a shock considering the way Rybakina dispatched her next three opponents with her powerful brand of tennis, but it will be interesting to see how Swiatek responds and whether she will reassert her dominance when Indian Wells and the Miami Open roll around in March.
Swiatek is the defending champion at both events so will have plenty of ranking points to defend.
After Swiatek's exit it looked even more like a first Grand Slam title was within reach for Pegula, but she was outplayed by two-time champion Victoria Azarenka in the quarter-finals.
Pegula was playing so well in her previous matches – and at the United Cup – that it felt like this was one that perhaps got away for her.
What it means for 2023: Question marks for Swiatek and Pegula too. How will they both rebound when next take to the court? Is it too much to expect Swiatek to dominate as she did in 2022?
MURRAY GOES THE DISTANCE
By the time Djokovic took to court for his semi-final he had spent two hours less playing tennis at the 2023 Australian Open than Andy Murray managed in three matches.
Murray going the distance with Matteo Berrettini, then doing the same with Thanasi Kokkinakis until 4am, then pushing Roberto Bautista Agut, was a pleasant surprise after his surgeries and downbeat finish to 2022, and hopefully bodes well for the future.
The challenge now for Murray is to continue climbing the rankings to get seeded for majors, which has been the aim since early last season. Murray is currently ranked at No. 64 in the world so has to make up some ground to get into the top 32. He looks set to play Rotterdam, Dubai, Indian Wells and Miami before making a decision over the clay season.
What it means for 2023: Could Murray make a deep run at a Grand Slam? With the way the draw broke here he might have done if he hadn't had to expend so much energy early on. Certainly Murray should be encouraged by his showing.
MEDVEDEV HAS SERIOUS WORK TO DO
It has not been a great 12 months for Daniil Medvedev.
Sure he got to No. 1 in the world in 2022, but his top level seems to have alluded him ever since his crushing loss to Rafael Nadal in last year's Australian Open final. He looked really impressive in the first two rounds in Melbourne but was then outplayed in surprising fashion as he was beaten in straight sets by Sebastian Korda.
It was a shock defeat for Medvedev, who will now drop to No. 12 in the rankings, and there appears work for him to do to get back to his best.
What it means for 2023: With Djokovic back atop the rankings and plenty of competition below, including Alcaraz, it's a tough climb for Medvedev back to the top. Indian Wells and the Miami Open will be the next interesting gauging points him.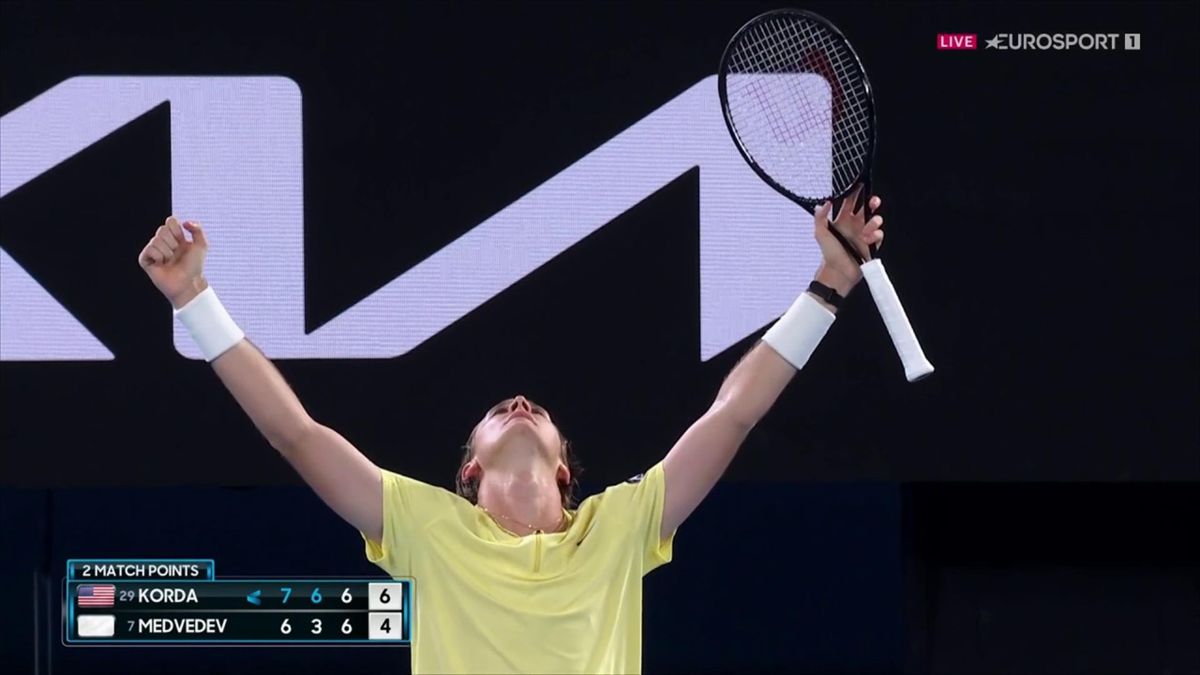 'He's done it!' – The moment Korda knocks out Medvedev at Australian Open
JABEUR AND RUUD CRASH OUT
After both making two Grand Slam finals last year it felt like Ons Jabeur and Casper Ruud were flying a bit under the radar ahead of the Australian Open. But neither second seed made their mark on the tournament.
Jabeur faced a tough three-set match in the first round and was then beaten in the second round by Marketa Vondrousova. It was a tricky match-up for second seed Jabeur but more was expected after a strong 2022 season.
Men's second seed Ruud suffered the same fate as Jabeur – out in the second round after defeat to Jenson Brooksby. If last year's French Open and US Open runner-up had beaten Brooksby would have seemingly had a winnable path to the semi-finals against Djokovic.
"There are no major tournaments in February, and I will therefore use the time to train my physique and actually use that month as a kind of 'pre-season', which I would normally have in December."
What it means for 2023: Will a break reinvigorate Ruud ahead of Indian Wells and the Miami Open? And will Jabeur re-emerge as the main challenger to Swiatek?
SHELTON SHOWS HIS 'RAW TALENT'
If you looked back at his draw now you may have picked Ben Shelton to make the Australian Open quarter-finals. Before the draw, considering he was playing just the second main-draw Grand Slam of his career and was travelling outside of the United States for the first time in his life, not many would have probably predicted him to go as far. And a year ago, when he was ranked outside the top 500 and was playing college tennis, making the last eight of a Grand Slam would have seemed a pipedream.
But Shelton has something.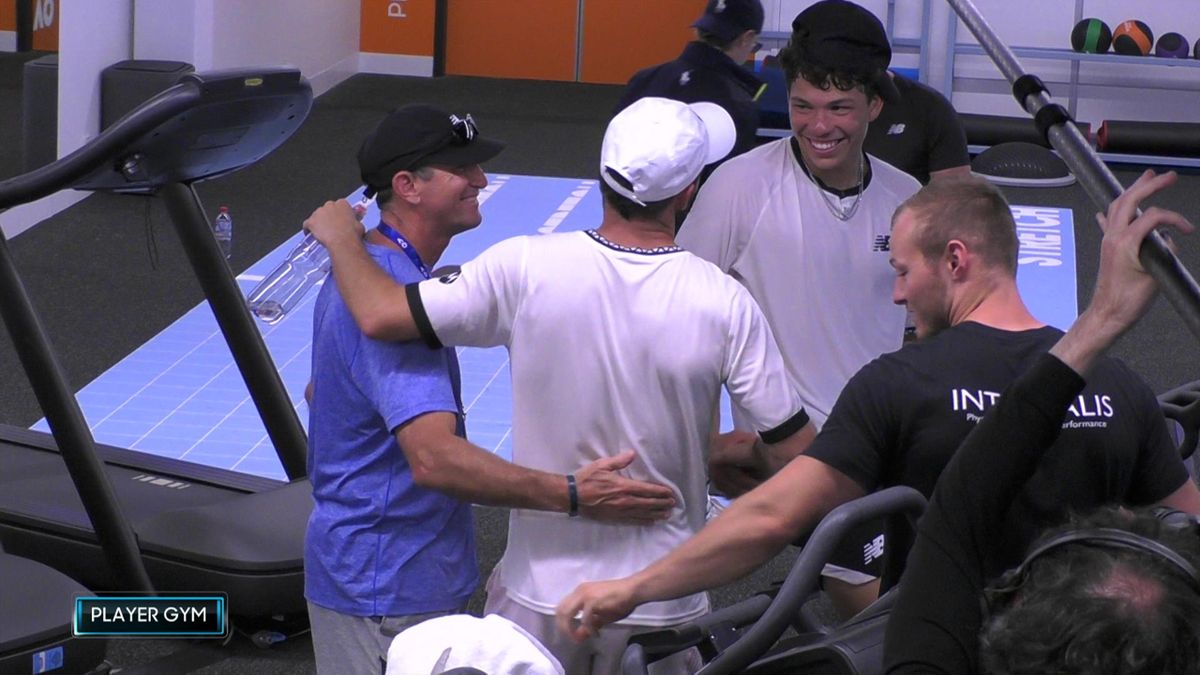 Watch heartwarming moment Paul and Shelton share hug behind the scenes after match
Tommy Paul's run to the semi-finals should also not go unmentioned as he had only once previously made it past the third round of a Grand Slam.
What it means for 2023: Shelton is an exciting part of a growing group of Americans who could challenge for titles.
LINETTE MAKES IT 30TH TIME LUCKY
"I'm like, where did she come from?!"
This was not the case of a draw breaking kindly for Linette; she impressed throughout with her ball striking and gave Aryna Sabalenka a tough test in the first set in the semi-finals.